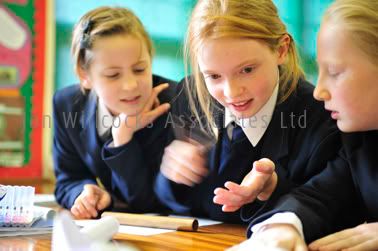 SCHOOLS marketing departments tell me they are inundated by eager agencies offering corporate branding as a one–stop solutions. 
We visited a school recently where the management had invested in a very convincing "brand" but despite that, the head was concerned, because of falling rolls – particularly by a severe lack of response to uptake in the pre-prep department. We looked at the existing prospectus package and noticed that the designer had allocated a tiny DL-sized leaflet to that department. The design concept had driven the solution, which, although attractive, in this case had failed to give the pre-prep department the importance it deserved.

Design solutions should convey information effectively, and should not impose artificial constraints on important information.


We visited another school whose academic reputation was good, yet whose corporate image was very poorly implemented. It appeared there was no specific typeface for the school logo.

Inevitably the website, prospectus and mailshots all suffered from a lack of visual coordination.

For a school that provides a culture of excellence for its students, it's no longer acceptable to muddle along with a confused marketing strategy. We live in a society where the public are more visually literate than they have ever been. Both of these schools have suffered because of poor advice, and the apparent appeal of 'one–stop' solutions.


There are a number of agencies offering one-stop' solutions that claim to resolve all marketing issues. I think this 'can do' philosophy has a compelling appeal to a number of schools, but a quick-fix is not that simple. started my career as a graphic designer working for Sir Norman Foster, and at the time he would (and the company still does) call upon the expertise of specialist consultants to undertake a project, structural engineers, for example.

Similarly I question the ability of these 'one-stop' marketing' companies to exercise 'best practise' for a school. It would be a brave claim for a company to be sufficiently talented to undertake the school's photography, corporate design, prospectus design, DVD filming and web construction, yet they do!

We talk to a wide range of schools across the country regarding prospectus design, and a surprising number complain that agencies are increasingly offering design solutions that have failed to promote a thorough understanding of the dynamics of their school. Perhaps the true qualities of the school are being lost in the name of 'creative design'. We have seen a plethora of images of smiling children that give little idea of what a school really has to offer. Someone once said 'that good design never gets noticed' – clearly there is an element of truth in this. Of course, prospectus design isn't an end itself but a communication vehicle, it should be, in our opinion, subordinate to its subject, even understated.


In our view, the primary task of the prospectus is to excite and inform, but not to disclose all. Its purpose is to reflect the qualities that make each school 'special'; it is only by a thorough understanding of the school that this is achievable. It needs to persuade parents and children to visit a school for themselves. Increasingly, parents are looking for breadth in education for their children. Sport can cultivate teamwork and cooperation. Drama, music and art can encourage creativity, individuality and enriches the soul.

JWA is continually analysing how best a school can effectively communicate its breadth of curriculum. We consider it essential to spend time familiarizing ourselves with the life of the school, talking to staff, taking meaningful photographs to gain a better understanding of what makes each school 'special'. What makes it special, its academic achievements, its location, its ambience, and its legacy? What is it, specifically, that the children enjoy about the school? It could be the brilliant teaching, or the friendly atmosphere. These are factors, which are difficult to capture without a deeper knowledge of the school.

Prospectuses will only be different in appearance when they honestly reflect the life and spirit of each unique institution. To maintain best practice it is vital we maintain careful monitoring of the printing process. Poor printing can undermine all the effort put into the design and photographic process. Similarly the choice of paper can make a real difference to the feel and presentation of the final product.